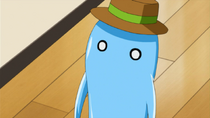 Eomi is unknon monster that became Gilver's friend.
Apperance
Edit
e takes up a provisional body due to his contempt of humans, which comprises of a Muumuu, a white blob-like creature, with a brown derby hat.
Personality
Edit
Eomi hates the human world and because of this, when he is needed there he comes in the body of a Muumuu.
He is somewhat conceited, thinking that he himself was awesome.