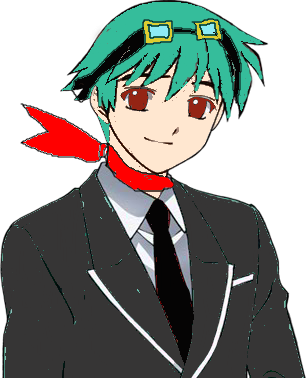 Jake Aono

Age

16

Relatives

Romantic Interest
Psychical Description

Species

Human
Snow Man
Ice Man
Magic/Telekinesis

Gender

Male

Description

Attire

Black Shoes
Blue Jeans
White T-Shirt
Blue Jacket
Black Tie
Abilities/Weapons/Alignment

Abilities

Smart, Charming, Polite

Weapons

Kriss Sword, Ice Pistol, sword of light

Alignment

Good

Powers

Chaos Blaster,Chaos Ultimate Blaster, lightness to death
Jake is Tsukune's Brother, and His Appearance (Hasn't yet been appeared at this moment)
Apperance
Edit
Jake is 16 years old, that soon later steps into Yokari Academy. He wears a different outfit then the rest of the students in Yokari Academy. He wears Blue Jacket, White T-Shirt with a Black Tie, Blue Jeans, Black Shoes, and Fingerless Leather Gloves. He has a photo in his jacket pocket of his parents.
He has his own bike that he goes to school in.
Personality
Edit
Jake is a lonelyness person that first enters Yokari, but ends up trying to take one of Tsukune's friends. but he does become friends with Tsukune and Tsukune's Friends. He Smart, Charming, Polite, and is Kind hearted. He can with stand Hot. He is almost like Mizore but is much different from her.
FanFictions
Edit
(Work in Progress)
Ice Pistol
Sword Of Light
Relationship Status
Edit
Friends/Allies
(Work In Progress)